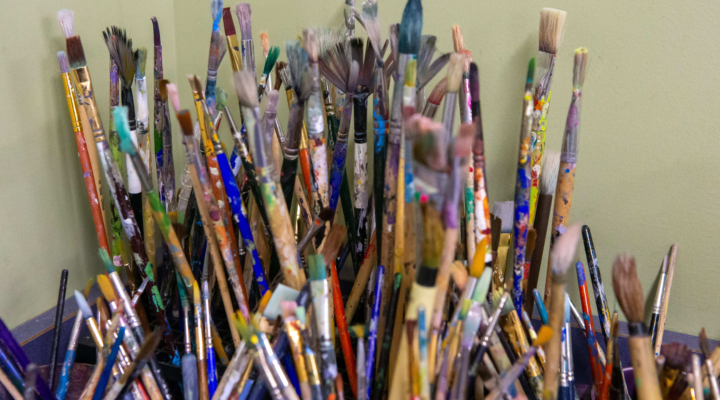 Arts & Music
With an intentional focus on exposing students to a range of visual and performing art experiences, the Arts Department aims to engage young people in thinking about technique, communication, and historical context. The Arts at Goretti offer a range of options. Students begin with a survey semester of music and visual art that presents common vocabulary and a basic understanding from which to pursue additional study in a range of electives like Vocal or Instrumental Ensemble, Drawing, Painting, Theater (Fall & Spring play: performance, stage, and technical), Architectural Drawing & Method, Musical Theater, Photo & Graphic Design, and advanced options that vary depending on semester sequence.
---
Art
The Visual Art offerings begin with a basic introduction to the elements and principles of art. With this one-semester foundation, a student can pursue a wide variety of semester offerings that include Drawing, Painting, Graphic Design, Design Learning, Architectural Drawing, Introduction to Photography, and Three-Dimensional Design.
---
Music
Through a partnership with the Cumberland Valley School of Music, we offer a performing arts program including a Drama Club and a Thespian Honors Society, in addition to three musical arts classes. Introduction to Music is a sophomore-level class that introduces students to a wide variety of musical styles and techniques. In Musical Theatre students will experience a practical study of musical theatre from the earliest Broadway revues to post-WW2 styles and their impact on American culture. Each fall, our school presents a play, and each spring we present a musical, with over 25% of our student body annually participating either as performers or technical crew.
Ten Strings Folk Band
The Ten Strings folk band is available all year to students with various and ranging instrumental and vocal talents. The instrumental and contemporary music is meant to bring an upbeat tempo to different events and Mass.
Choir
Choir/Choral Performance is available all year to students. Working on both harmony and vocal technique, the choir will sing both religious and secular music and perform during school functions, services, and concerts. Each year they perform at Greencastle's Heritage Days (PA) in the square for the Christmas season.
---
Drama
Thespian Troupe
St. Maria Goretti's Thespian Troupe is an honor society affiliated with The International Thespian Society, the student honorary division of the Educational Theatre Association that recognizes excellence in high school theatre. Membership in Goretti's Thespian Troupe is earned by demonstrating talent in and dedication to our theatre arts program. Inductees have typically performed in at least three stage productions and have dedicated hundreds of hours to the theatre arts. Officers are elected every year, and they are responsible for the organization and management of the Thespian Troupe and the drama club.
Drama Club
Goretti's Drama Club is open to any student interested in the performing arts. The drama club attends field trips to see performances ranging from local amateur festivals to more professional productions. The drama club also supports the fall play and the spring musical with technical and stage crews.