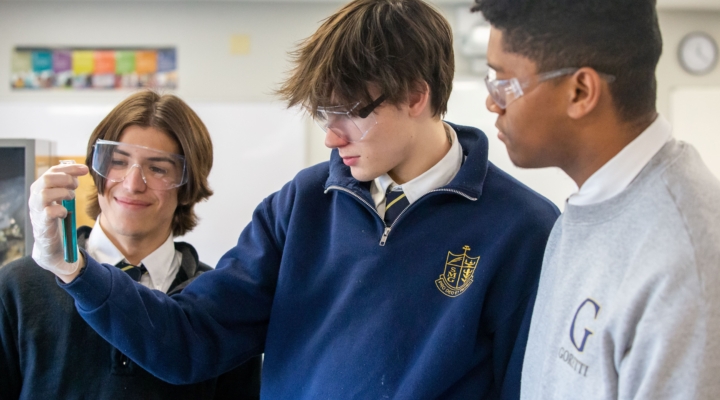 Curriculum
The Archdiocese of Baltimore Curriculum is designed to prepare students to be College and Career Ready. Each course of study fosters students' Catholic identity, shaping them to be models of Christian living for others. We provide students with a curriculum that is rigorous and rich in various disciplines. By continuing to implement new standards that are challenging, we work to fulfill the promise of quality Catholic education that educates the whole child: mind, body, and soul.

Operating under the Archdiocese of Baltimore Department of Catholic Schools, St. Maria Goretti Catholic High School follows the Course of Study developed by this educational entity. This curriculum meets and exceeds the curriculum requirements for the Maryland State Department of Education.

We offer students a core foundational sequence of courses with the opportunity to take a variety of electives. All students are required to earn 27 credits for graduation:


Religion/Theology - 4 credits
English - 4 credits
Mathematics - 4 credits
Physical Education - .5 Credit
Science - 3 NGSS Credits
Social Studies - 3 credits
Fine Arts - 1 Credit
Technology - 1 Credit
Health - 1 Credit
World Language - 2 Credits (same language)
Electives - 3.5 Credits
Social Studies Suggested Pathway
---
The Academic Journey at St. Maria Goretti Catholic High School
Each student's path at St. Maria Goretti Catholic High School is designed to challenge them academically and provide them with a well-rounded foundation for their futures. With small class sizes, we are able to challenge students at all times, while giving them individualized attention when necessary. Thus, preparing them for college and beyond.
College Preparatory
College preparatory classes at Goretti focus on the 21st-century skills needed for success in the modern world. Students learn in innovative learning spaces that are ideal for collaboration and are challenged to think, grow, and find success in the classroom and beyond.

Honors Program
Available for students who demonstrate the ability to move past the basics and into a more rigorous environment.

Advanced Placement
Available for students who demonstrate the ability to conquer the basics of an honors level class and into an even more rigorous environment.
College Experience
Designed for qualified juniors and seniors who wish to earn college credit concurrently with high school credit. Our College Experience classes include offerings from Mount St. Mary's University, Shepherd University, Wilson College, and Hagerstown Community College. To learn more about our Dual Enrollment Classes please visit College & Career Preparation.