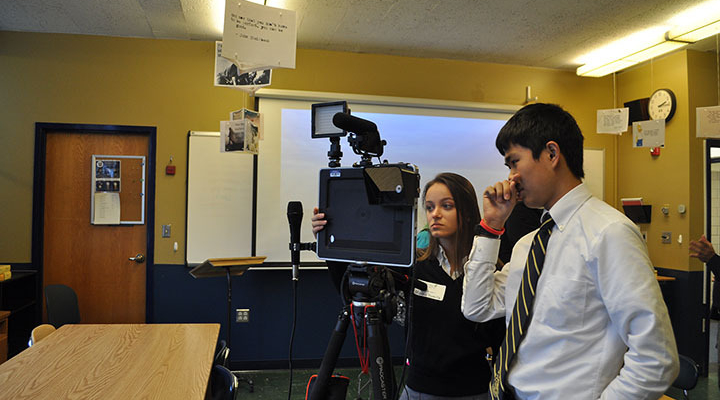 Technology
Technology courses are essential to every Catholic school curriculum. In fact, technology is required to be integrated throughout each course of study from Mathematics to Religion. The use of technology in the 21st century is integral to preparing students for college and career success. Technology courses in Catholic schools cover a variety of lessons including Research and Information Fluency, Digital Citizenship, Creativity and Innovation, Communication and Collaboration. All of these units are taught and influenced by the lens of Catholic identity and the dignity of all humankind.
Technology for students
1:1 Chromebook Program
All Goretti students carry a Dell Chromebook, providing them the opportunity to connect learning to all of the resources and information available online, anywhere, at any time. The use of Chromebooks as an instructional tool empowers students to learn at their full potential, to communicate and collaborate in analytical thinking and problem solving, and to prepare for high school, college, and the workplace. Teacher instruction and content delivery is then maximized for the most effective means to increase achievement.
Google Suite for Education
Goretti students work anywhere, anytime, and on any device with G Suite for Education. The tools encourage collaboration, creativity, and critical thinking, and let teachers work one-on-one or with the whole class.
Padcaster Student Video Production
Known as "Tools for the next generation of digital learners," Padcaster is an all-in-one mobile production suite through use of an iPad. Students create products using digital storytelling to create and share compelling digital content.
Technology in the classroom
Early-to-College Zoom Conference Room
Technology helps those students enrolled in the early-to-college class programs. Through our partnership with Mount St. Mary's University students are able to participate in college courses while on campus at Goretti.