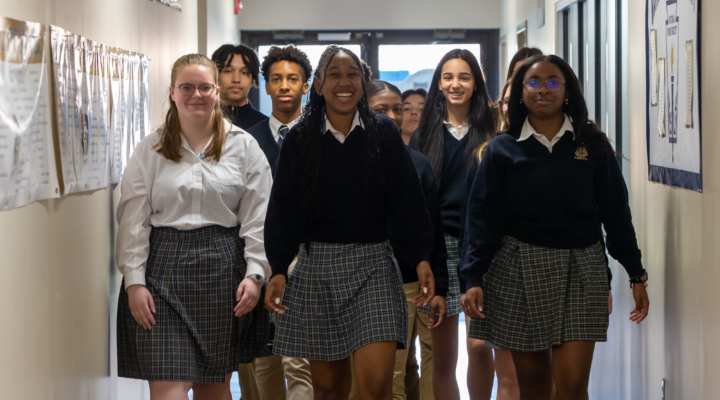 Campus Life
The Goretti Community often refers to themselves as the Goretti Family.
The term Family highlights the close-knit relationships, support systems, and sense of belonging that can exist within an educational institution. We, the Goretti Family, feel this term characterizes and captures the essence of St. Maria Goretti Regional Catholic High School. Just as family members provide emotional support and care for each other, Goretti cultivates supportive relationships between students, teachers, and administrators. These relationships can enhance learning and personal development.
At Goretti, we know learning extends far beyond our four walls. We believe in shaping the entire student, intellectually, spiritually, and physically. We have many opportunities that help shape our students, from arts and athletics to clubs and special activities, to spiritual retreats, our students lead active lives that grow them into well-rounded individuals.
Goretti was founded 60+ years ago, and has many traditions that shape our everyday lives, and define the experience of Goretti. From Color Day to Macho Volleyball to Powderpuff Football, these events create long-lasting memories for our students and beyond. Discover what it's like to be a St. Maria Goretti Gael!
Clubs & Activities
At Goretti, clubs, and activities offer you many opportunities to get involved in the school community, build your leadership skills, and meet a diverse range of people.
Goretti students organize, lead, and belong to a wide range of academic, artistic, and cultural clubs. These different clubs & organizations are designed to foster personal development and enrich the high school experience. At any time, if there is not a club that piques your interest, you are welcome to create a new school club based on your own personal experiences and interests!
While the list of clubs varies year to year depending on the interests of current students, the following list is a representation of offerings at Goretti!
| | | | |
| --- | --- | --- | --- |
| Vocal Ensemble | Drama Club | Rotary Interact Club | Student Government Association (SGA) |
| Thespian Honor Society | National Honor Society (NHS) | Rosary Group | Campus Ministry |
| Varsity Club | Math Club | Debate Club | Gael Ambassadors |
| Book Club | Ten Strings Band | Cheer Club | Black Student Alliance |
| Art Club | Morgan's Message | Kubb Club | Stage Crew |
Athletics
Competing in the competitive MIAA conference, St. Maria Goretti Catholic School has 12 sports teams that compete in the fall, winter, and spring. The athletics department at Goretti teaches our athletes the importance of participation, excellence, discipline, loyalty, and self-confidence. We are proud of the winning tradition of Goretti Sports. Goretti has also produced many student-athletes who have gone on the compete at some of the most competitive programs in Divisions I, II, and III throughout the United States. Envision yourself on the Goretti playing field by visiting our Athletics Page.
Arts & Music Program
With an intentional focus on exposing students to various visual and performing arts experiences, the art department at St. Maria Goretti Catholic School aims to encourage our students to explore their creative gifts and share their talents in the Visual Arts, Music, and Drama Department. Discover the many paths you can choose by exploring our Arts & Music Program.
Positive School Environment
To foster a positive school environment where all students are educated in a safe and caring atmosphere, all Archdiocesan schools will follow established procedures for the prevention and intervention of bullying, harassment, or intimidation.
Positive Behavioral Intervention & Support (PBIS) has been implemented in every Archdiocesan elementary and high school to enhance academic and social behavior outcomes for all students.