Goretti Appoints New President 2021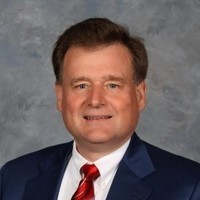 We are pleased to announce that Joseph O. Padasak, Ed. D. has been appointed President of St. Maria Goretti Catholic High School!
"It is a great honor for me to join the Goretti family at this critical and exciting time in Catholic education. Goretti's mission to educate and form productive members of society in the Catholic Faith is so important now, not only for the region, but also for the country" - Dr. Padasak
Dr. Padasak will assume the duties of President on May 3, 2021. We wish to thank Dr. Thomas Burnford, who has capably and generously led the school as Interim President.
Dr. Padasak has served as District Superintendent for the Chambersburg (2006-2019) and Windber (2002-2006) Are School Districts. In addition, he served as Chief School Administrator at the Franklin County Learning Center (2006-09) and the Greater Johnstown Career and Technology Center (2003-06) and as Middle School Principal for the Hamburg Area School District (1996-2002). While serving as Superintendent of the Chambersburg Area School District, Dr. Padasak oversaw a system that consisted of more than 9,000 students, over 1,000 employees and a $125 million budget.
To read the full announcement, please click the link below.