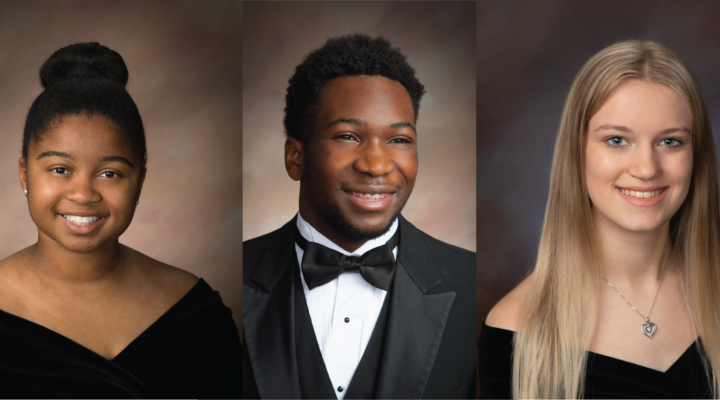 Distinctive Scholars
Ivan Obuekwe

Ivan has thrived both academically and socially during his four years at St. Maria Goretti Catholic High School, maintaining exemplary grades. He has been involved in track and field, basketball, cross country, and the school play where this year he has the lead role of The Prince. Ivan has modeled service to others volunteering at the local Rescue Mission and helping young athletes at basketball camps. Ivan plans to major in computer science.

Ivan's statement: Attending a Catholic school was really a mind opener. It opened my eyes and has presented to me with new opportunities I didn't know I had.

The most rewarding service project I experienced was helping at the Rescue Mission Center.
Emma Klinko
Emma Klinko has been a distinguished honors student all four years that she has attended St. Maria Goretti Catholic High School. She has aspired to take rigorous courses offered at Goretti and through partnerships with colleges and universities. Emma is the epitome of a well-rounded student. She has participated in the choir, performed in school plays and musicals, and has cantored for school Masses. She intends to major in psychology at a four year college or university. Her compassion, empathy, and inner strength are woven into her daily interactions with others.

Emma's Statement: Attending a Catholic school has given me an incredible education, which has set me up well for the future. I have had the opportunity to take part in many extracurricular activities and make many long lasting friendships thanks to my school.

The most rewarding service project I experienced was volunteering with the Waynesboro Children's Theater Troupe (WCTT).

Asia Warren

Asia, in her quiet, unassuming way, has displayed positive leadership skills in her four years at Goretti. She has demonstrated determination and self-discipline and is a positive role-model for other students. She is a member of National Honor Society and has more than 500 hours of service performed at school and in the local community. Asia is a three season athlete who has persevered through setbacks from an injury. She aspires to attend a four year school to major in sports medicine or sports management.

Asia's statement: One way attending a Catholic school has changed my life is the challenging work that was given to me to get ready for college. I appreciate the amount of work that was given because it didn't just prepare me for college but also for life.

Most Rewarding Service Project: Serving on the Tech Crew for Goretti plays and musicals