Class of 1963, 60th Reunion!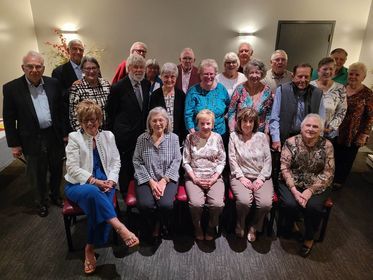 SMGH CLASS of 1963 60th REUNION Summary April 2023
Hors d'eavres and Dinner at the John Allison House, Greencastle, PA 25 Attendees:
Of the Class of '63, 44 graduates, 15 attended: Linda Birdsall Shank, Alan Brown, Sandi Brown Foreman, Dennis Foreman, Patrick Cancro, Shirley DeBiase Klotz, Adriana Kalpas Riordan, Sharon Kuhn Finafrock, Curtis Graff, Donna Lesher Brady, Mary McGarity Lee, Jay Scalese, Bev Schlotterbeck, Marie Semler and Rita Voran. Also 2 Additional Classmates: Benny Flaherty and Steve Dattilio. We welcomed 8 Spouses and Family Members: Eleanor Brown, Christine Cancro, Sharon Dattilio, John Riordan, Sandy Graff, Gary Stallings, Andy and Mandy Voran
Our reunion opened with nostalgic yet humorous remarks from Shirley DeBiase Klotz, setting a superb tone for the evening; bringing her yearbook, asking classmates to make a current comment, for comparison with the comment they posted in 1963 and to share special memories. Alan Brown, Class Vice President then followed with meaningful remarks citing the majority of the class was together since kindergarten at St. Mary's Elementary School in Hagerstown, bringing some special pictures of those years, concluding with the emotional fact from his father's wallet, that 'in the end what is important is family and friends, and friends who become family'. Also, remembering our deceased classmates, has always been important as we gather together. Marie Semler printed and framed 8x10 pictures of each of the 10 classmates we have lost, honoring them with a Moment of Silence, concluding with grace, before dinner was served. The evening became interesting with classmates citing one particular event (i.e. removing the pink flamingos from the Convent lawn, our most humorous yet most disastrous incident). Particularly, incidents with Sr Ellis, Sr. John Paul, Sr. Hermes and Sr. Jacquelyn were cited along with Sr. Jeanne d'Arc, only a few years older than us, who not only attended a former reunion but continuously keeps in touch with our class. Several classmates couldn't remain with us all 4 years but they are surely members of our class and we are delighted they want to join us for events. The evening concluded by adjourning to the parking lot after the restaurant closed – we don't say goodbye…'we pick up where we left off, regardless of how time flies'!