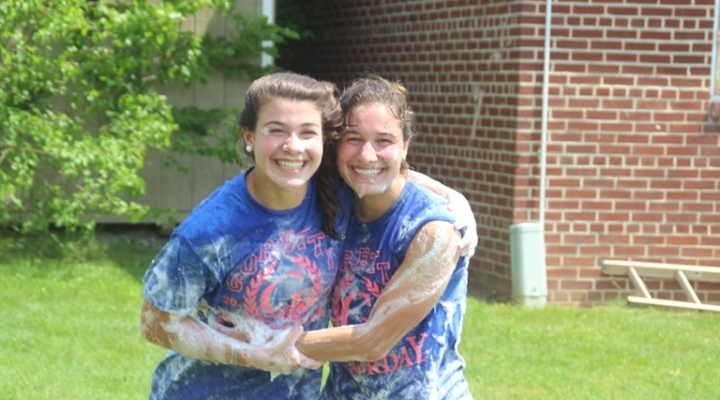 Athletics & the Arts
At St. Maria Goretti Catholic High School, we believe in nurturing the whole person- intellectually, spiritually, and physically. In addition to providing our students an excellent education in a faith-filled setting, we also offer them numerous opportunities to grow and thrive outside of the classroom through athletics, fine arts, clubs, and more!
Athletics
Competing in the competitive MIAA conference, St. Maria Goretti Catholic School has 12 sports teams that compete in the fall, winter, and spring. The athletics department at Goretti teaches our athletes the importance of participation, excellence, discipline, loyalty, and self-confidence. We are proud of the winning tradition of Goretti Sports. Goretti has also produced many student athletes who have gone on the compete at some of the most competitive programs in Divisions I, II, and III throughout the United States. Envision yourself on the Goretti playing field by visiting our Athletics Page.
Arts & Music Program
With an intentional focus on exposing students to a range of visual and performing arts experiences, the arts department at St. Maria Goretti Catholic School aims to encourage our students to explore their creative gifts and share their talents in the Visual Arts, Music, and Drama Department. Discover the many paths you can choose by exploring our Arts & Music Program.


Clubs & Activities
While on campus students have the opportunity to participate in a broad range of co-curricular and extra-curricular activities. These different clubs & organizations are designed to foster personal development and enrich the high school experience. To see what clubs & organizations you can join while at Goretti, please visit our clubs & activities page.
Positive School Environment
To foster a positive school environment where all students are educated in a safe and caring atmosphere, all Archdiocesan schools will follow established procedures for prevention and intervention for bullying, harassment or intimidation.
Positive Behavioral Intervention & Supports (PBIS) has been implemented in every Archdiocesan elementary and high school to enhance academic and social behavior outcomes for all students.