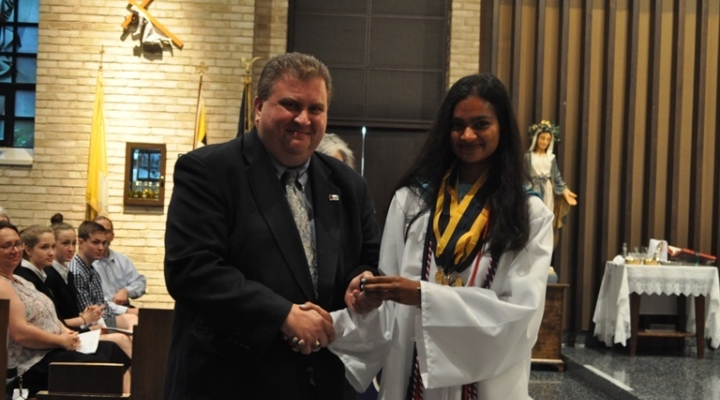 Pro Deo et Patria, Valedictorian, Aroub Yousuf
Class of 2018 valedictorian, Aroub Yousuf, graduated with many honors, including:
Pro Deo et Patria Award
Valedictorian
National Merit Scholarship Corporation, Commended Scholar
Department of Archdiocese of Baltimore Catholic Schools Distinguished Scholar
Maryland State Merit Scholastic Award
Honor Committee
Student Government Executive Office President
Religious Studies Distinguished Scholar
English Distinguished Scholar
Math Distinguished Scholar
Science Distinguished Scholar
The 200 Club Award
National Honor Society
National French Honor Society
National Art Honor Society
D.A.R. Good Citizen Award
Aroub is a member of the Ten Strings Folk Band, Varsity Tennis Team, and President of Rotary Interact. She is an environmental lobbyist who has authored a children's book and volunteered at numerous service organizations. Aroub is a graduate of Corpus Christi Catholic School, Chambersburg. She will attend Boston College to study Environmental Science as part of The Gabelli Presidential Scholars Program, an academic merit program that awards every year 15 four-year full tuition scholarships and funds all GPSP-sponsored summer programs.